The Alfa Romeo Giulia was introduced in 1962 and different versions were made until the run stopped in 1978.
Designed to be a lightweight, 4-door sedan with a small displacement, powerful engine. 
Lucky for us, the Giulia has been recreated as the 952 generation and was made available in 2017.
Keeping with tradition, it is a 4-door sedan with a small 2 liter, turbocharged engine that produces 280 horsepower. 
It is also available as a 505 horsepower twin turbocharged Quadrifoglio model.
At MGC suspensions, we were proud to add a small collection of performance upgrades to our list of products to help Alfa Romeo owners improve on an already spectacular car.
Get our weekly newsletter for discount codes, featured products, and links to all our new blog content.
Who is MGC suspensions? Read our story and see.
Below is a short list of what we think are smart suspension and exhaust upgrades for the Alfa Romeo Giulia. 
Our list was created using data from top selling products and customer reviews.
Give your Giulia Quadrifoglio increased horsepower, torque, and a glorious exhaust note while reducing weight.  (+11 horsepower gain).
Watch the exhaust clip video on the product page to hear how great it sounds.
Valved system that works with your factory cabin controls.
No vehicle modifications required.

Original tube-65 mm (2.5")
REMUS tube-70 mm (2.75")
Features
Aggressive racing sound
Shot blasted surface, 100% stainless steel
Performance increase, low back pressure
Light weight construction
Perfect shape and fitment
Handmade in Austria
24 months warranty
EC homologation
Kit includes muffler section, mid pipes, connection tubes, and 102 mm, angle cut, chrome exhaust tips.
Cat back system that is 50 state smog legal.
Simply one of the best exhaust systems for Alfa Romeo Giulia. 
1.2 Inches (30.4 mm) front and rear lowering.
Includes Alfa Active Suspension. Fits 2WD and AWD models.
Also available for Giulia Quadrifoglio
A progressive rate coil design yields a stiffer spring that improves cornering and handling, while maintaining daily driver comfort.
The tasteful lower stance will definetely get noticed, and make you love your Giulia even more.
All H&R lowering springs are made of a special (hf) 54SiCr6 spring steel to ensure the best quality and performance.
H&R lowering springs are shot-peened to increase service life by 200%.
A thick, durable powder coated finish ensures they will last, even in the harshest conditions.
All production and testing is done in house at H&R's ISO9001 certified production plant in Germany.
A lower ride height will make your Giulia seem wider and longer, giving the Italian body lines an even better look.
Experience a huge improvement in handling and appearance with H&R lowering springs.
Alfa Romeo Giulia lowering springs at MGC.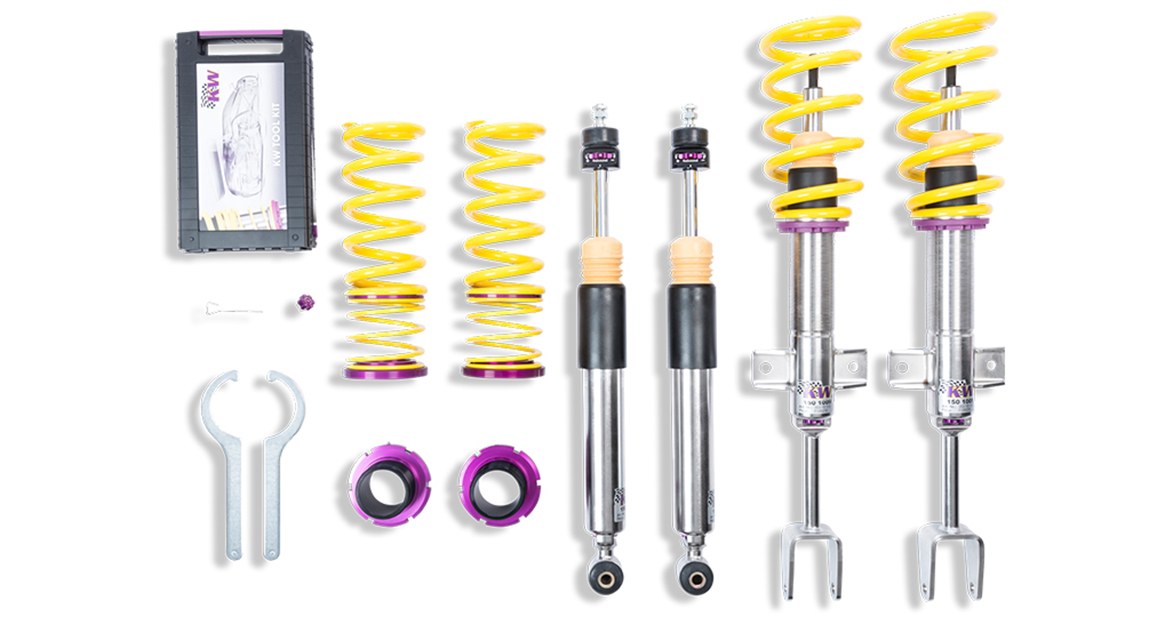 With compression and rebound stage damping that can be set separately and independently of each other, the damper setup can be customized to your personal driving preferences or vehicle changes such as weight, tire characteristics, or altered vehicle rigidity.
The KW Variant 3 INOX-LINE coilover kit is the ideal tool for performance-oriented drivers and experienced tuning enthusiasts who place a strong emphasis on the overall performance of their suspension.
The Variant 3 features patented TVR-A and TVC-A technology that provides separate rebound and compression damping adjustments.
The extensive adjustment angle of the independently configurable rebound and compression make it easy to directly influence the steering behavior, directional stability, grip, and handling characteristics.

Featuring a muffler and collector with a resonator made from lightweight titanium and link pipes made of high-grade stainless steel, the Evolution Line (Titanium) exhaust system fits directly onto the Giulia Quadrifoglio's stock downpipes.
The system includes parts cast in the company's in-house foundry, such as the valve housing and X-part in the muffler, which is perfectly formed to allow exhaust gases to mix at a precisely defined mixing ratio.
Developed to deliver both power and torque gains throughout the rev range and significantly reduce back pressure, it is finished with handcrafted carbon-fiber or titanium tailpipes (sold separately) to enhance the visual enjoyment of the exhaust.
In-depth engineering has produced a deep and sporty sound with no unwanted drone, perfectly suitable for everyday use. It is distinctly different from the stock system, especially during partial load, when shifting, and at higher rpms, where it delivers a pure racing sound.
The system is a simple plug-and-play operation to fit, and it has been designed to meet ECE type approval. The optional downpipe set and Akrapovič Sound Kit are also available.
ST suspension is a sister company of KW, and is engineered to the same strict performance standards.
 Want to lower your Alfa Romeo Giulia Quadrifoglio for better looks and performance?
Want one of the best lowering spring kits available at a great price?
ST suspension has the solution.
Made from chrome silicon steel in a cold winding process, ST sport springs are multi-coated with a final epoxy coating ensuring OEM quality and finish.
As a result, they withstand a variety of weather conditions all year round.
Depending on the vehicle model, ST suspension sport springs will give lowering of 20mm on the front axle, and 15mm on the rear axle.
ST sport springs lower the center of gravity to improve cornering and handling.
The spring rates of ST sport springs have been designed to work perfectly with your OEM shocks to ensure the driving dynamics are improved and ultimately safe.
MGC plans on a future Giulia build project, so stay tuned. You will probably see 1 or more of these products.
If you have any questions about Alfa Romeo suspension upgrades or exhaust systems please feel free to contact us. We can probably get what you need. 
Visit our website at www.mgcsuspensions.com
Read other MGC blog posts for more content.