Have a second generation Mini Cooper R56?
Looking for some ideas to upgrade your worn out factory suspension?
MGC suspensions has created a smart list of product recommendations for you to consider if you are. 
The second generation Mini Cooper hatchback was given the internal code of R56 and was manufactured from 2006-15.

It's a British hot hatch with decent power, good looks, and playful suspension feedback from the factory. 
However, most on the road today are reaching higher mileage points and are still cruising around on factory original suspension parts. 
Time for an upgrade. A restomod project. A freshening up if you will. 
With a reasonable budget in mind we have created a short list of suspension upgrades that will improve the handling of the already capable R56 Mini Cooper.
Our suggestions are basesd on the assumption that your suspension basics like control arm bushings, sway bar drop links, brakes, tires, etc, etc are still in good working order.
If you have a high mileage, clunking R56, then tackle those issues first before moving forward with any improvements. 
With the Mini Cooper, especially a daily driven one, less is more when it comes to suspension upgrades.
These cars by nature and form are already great handling cars from the factory. But they can surely be improved upon.
Here we go!
Stay until the end where we will give you a few non-suspension related upgrades you'll want to see. 
Experience 100 different damping options for ride character and feedback with a Bilstein Clubsport coilover kit.
Progressive rate coil springs are matched with monotube performance dampers appropriate for street or track use.
Separate compression and rebound dials make it easy to achieve the exact response you need.
The red dial is for rebound and the blue is for compression.
Both easy to read aluminum adjusters are scaled from 1-10 for 100 possible options.
Some kits include camber adjustment with aluminum uniball support bearings for optimal cornering stability.
Simple and fast set-up changes can be made without any additional tools.
Height adjustable down to 2.5 inches so you can set the stance exactly the way you want it.
Enjoy complete suspension control with a Clubsport kit by Bilstein.
Using your R56 Mini Cooper on the track or want to get the best handling and response for comfortable daily use?
Or is it a combination of both you are looking for?
Then the 5100 series coilover kit by AST is a perfect choice.
Features and benefits:
1-way adjustable, the 12 positions give clear feedback with each adjustment, each offering a different driving experience.
Inverted strut design to cope with (heavy) side load and braking loads.
In some cases a non inverted damping system is used.
Improved handling and consistent performance due to monotube shock technology
Ride height adjustable.
Gas pressurized dampers ( gas and oil are divided by a floating piston).
Designed to run OEM top mounts.
With all the same features as the V1 coilover kit, the Variant 2 setup by KW adds 16 click rebound adjustment so the ride character can be fine tuned between firm and soft.
This is easily done with the turn of external dials on the dampers, and doesn't change the preconfigured compression setting.
All stainless steel shock bodies and powder coated springs ensure a lifetime of corrosion resistance.
A geometry safe lowering range of 30-70 mm lets you set the stance to your preference.
Dirt repelling, trapezoid shaped shock body threads make turning the height adjustment collars smooth and easy.
This coilover kit is perfect for anyone looking for transformed daily driver performance and occasional track days.
Images may differ slightly from the actual kit for your car.
Looking for an affordable set of coilovers that are ride height and rebound firmness adjustable?
ST coilover kits, engineered by KW, hit a sweet spot between value and high quality.
These XTA coilover kits offer an average safe lowering range of 0.5-3.0 inches depending on your vehicle.
Finely threaded shock bodies and a supplied spanner wrench make adjusting the ride height to your preference a breeze.
Turn the adjustment dials to change rebound response, and transform daily driver comfortable to stiffer settings for canyons or the track.
Experience superior handling and an aggressive lower stance you'll love looking at with ST coilovers.
Eibach Pro-Kit lowering springs are legendary in the suspension world and are a top selling item year after year.
Give your Mini Cooper a tasteful lower stance people will notice while improving handling and cornering.
Progressive coil spring design and precision tuned spring rates offer a sweet balance of better performance and ride comfort.
Depending on application, lowering amounts are kept within safe geometry ranges, usually between 1-1.5 inches (25-38mm).
Engineered and manufactured to the highest standards that produce a durable, long-lasting spring that won't squeak, rattle, crack, or break.
Finished in a durable red powder coat that offers corrosion resistance in any conditions.
Experience transformed handling and a clean, lower look with one the best lowering spring brands available.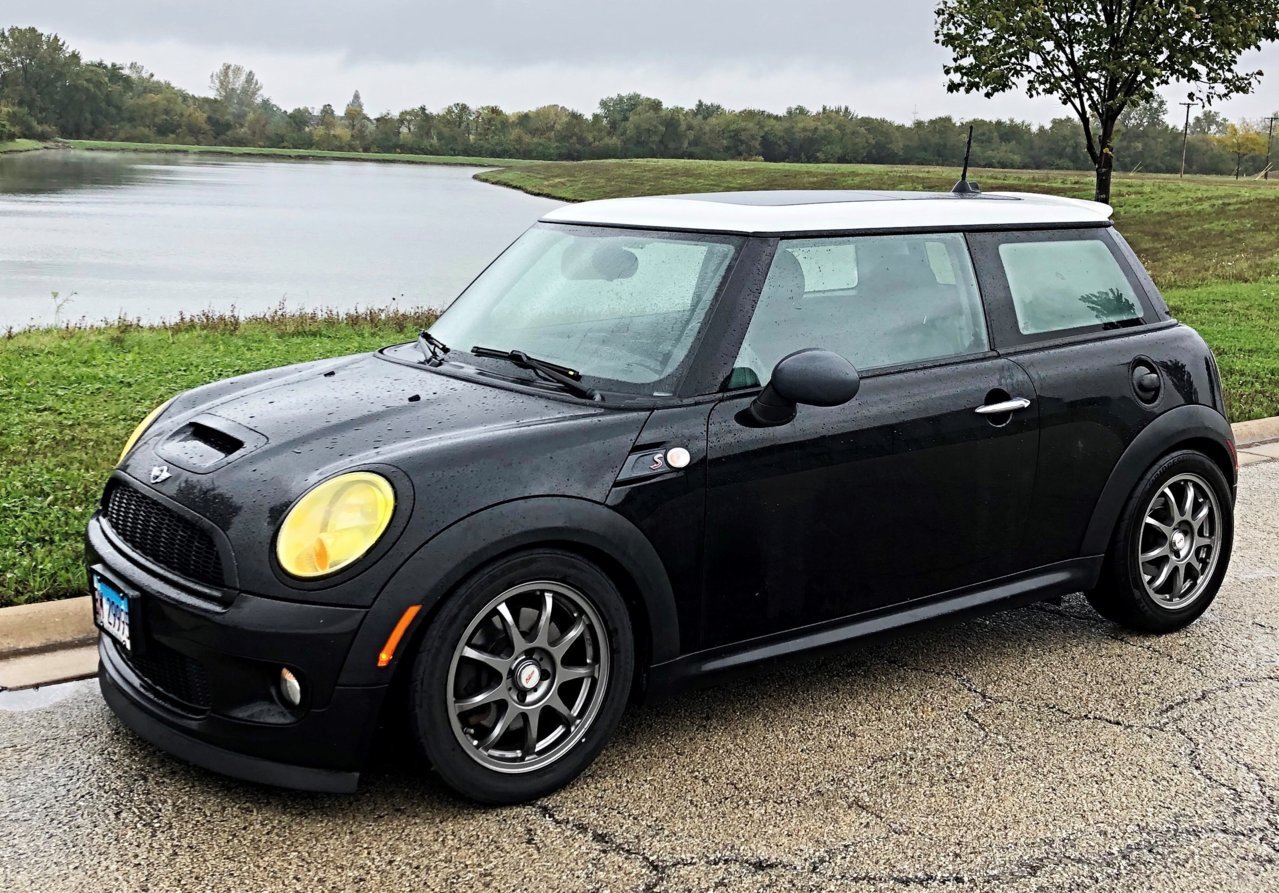 1.4 Inches (35.5 mm) front and rear lowering.
Also fits John Cooper Works. See fitment guide below for all applications.
A progressive rate coil design with a slightly stiffer spring rate improves cornering and handling, without the ride becoming harsh or bumpy.
The tasteful lower stance will definetely get noticed, and make you love your Mini Cooper S even more.
All H&R lowering springs are made of a special (hf) 54SiCr6 spring steel to ensure the best quality and performance.
H&R lowering springs are shot-peened to increase service life by 200%.
A thick, durable powder coat finish ensures they will last, even in the harshest conditions.
All production and testing is done in house at H&R's ISO9001 certified production plant in Germany.
Experience a huge improvement in handling and appearance with a high quality set of H&R lowering springs.
AST top mounts are made of the highest quality materials available.
The plates are made out of an exotic high grade aluminum, and the bearing (plus its carrier) are made within very small tolerances that results in a unique noise free pillowball setup.
AST uses the same materials and bearings as they use in the aviation industry.
AST top mounts are nearly maintenance free.
Rear camber arms. Camber +/-4.00 degrees of adjustment.
Achieve a wider range of adjustability with this high quality kit by Eibach.
Perfect for correcting geometry for lowered cars and for track setup.
27mm front bar (non-adjustable)
22mm rear bar (adjustable)
Looking for even better suspension performance after installing Mini Cooper S coilovers or lowering springs?
H&R sway bar kits are made of high tensile strength (hf) 50CrV4 steel alloy that produces reduced roll response time and increases cornering stiffness over stock.
Larger diameter, stiffer sway bars increase lateral stability and reduce body roll, which improves cornering grip.
H&R sway bars are cold-formed and heat treated with seamless, no-weld end flanges.
Shot-peened for lifetime durability.
To finish these kits, they come with fresh urethane/teflon composite bushings that won't squeak or need lubrication.
Want the best coilovers for your Mini Cooper?
Ohlins is arguably the only answer.
The Ohlins Road and Track series coilover kits feature the latest in single tube technology that uses both through-rod damper technology, and Ohlins exclusive Dual Flow Valve (DFV) technology, which allows you to change the stiffness of the shock absorbers.
These coilovers are light-weight, corrosion resistant, and fully rebuildable for a lifetime of performance, and come with a two-year limited warranty.
Ohlins dampers also feature one knob that operates individual compression and rebound adjusters that are pressure balanced, and have preload adjustability.
Adjusting the knob changes all four areas in the damper; low and high speed compression and rebound damping.
Ride height is easily changed with finely threaded shock bodies and smooth moving collars so you can set the stance exactly where you want.
There is our list of top ten suspension improvement ideas for the R56 Mini. I know we probably left out a few things, but we are trying to keep it basic and specific to daily driven street cars. 
We don't want to get into the realm of slanted camber craziness and anything else that will eat tires or make the ride so harsh nobody wants to go anywhere with you. 
As we promised earlier, here are a few exhaust upgrades that add a bit of power, reduce weight, and sound simply amazing!
Want the best stainless steel down pipe for your Mini Cooper S?
Complete your Akrapovic exhaust system with this optional stainless steel down pipe that uses a high flow, 100 cpsi sport catalytic converter.
Free up even more flow and power while reducing weight.
Fit and finish is of the highest quality. Remapping of the ECU is recommended when installing aftermarket exhaust components for maximum results. 
Gve your Mini an awesome exhaust tone that starts as a deep rumble at idle and then slowly begins to howl as the RPM increase. All within normal dB ranges.
Remus is the manufacturer of factory exhaust systems for brands like Bentley, Porsche, AMG, Lexus, and others. 
Their build quality is legendary and their systems are used on vehicles all over the world. 
No drone mufflers keep cruising enjoyable.
Your choice of beautiful exhaust tips. 
Have you been looking for the best exhaust system for your Mini Cooper S?
Akrapovic may have ended your search. Simply one of the best sounding systems available.
The design team behind the MINI is widely acknowledged for bringing this iconic car back to life.
The Akrapovic Evolution Line exhaust system, made of high-quality stainless steel, is a big upgrade in performance and sound.
This system consists of an optimized link pipe with a resonator and rear muffler. It improves performance, adds power and torque, and quickens the throttle response of the four-cylinder engine, especially in the rpm mid-range where it is noticed the most.
This Akrapovic performance exhaust system has a sporty and aggressive tone, without any annoying drone while cruising.
Complete the system with beautiful 95 mm (3.7 inch) exhaust tips, available in titanium or carbon fiber (Sold separately here at MGC).
An optional down pipe with 100 cell catalytic converter for even more flow and power is available. (Link below).
EC type-approval is valid for engine type N18B16A and N14B16A.
Tips are sold separately and are available in titanium or carbon fiber. Links to both tip options and the down pipe are listed below.
Conclusion
So, what are your favorite Mini Cooper R56 performance upgrades?
Leave us a comment and maybe we can learn something. 
The R56 is a great platform for suspension upgrades to make kit one of the sharpest handling cars on the road. We hope our suggestions can help you find what you were looking for.
We want your projects to be fun and give you the best results possible. 
Don't be tempted by stuff you might see on eBay or Amazon that has a price that is too good to be true. You will be disappointed for sure. 
Read all of our blog content for more product ideas and recommendations.
If you have any questions about suspension or exhaust upgrades for your Mini R56, or any European vehicle, please contact us.
service@mgcsuspensions.com
Or better yet, use our Suspension Builder for personalized product descriptions and a discount code. 
Get the MGC Newsletter for subscriber only discount codes, product features, news, and more