The second generation 3-series for BMW that was made between 1982-1994, this boxy, analog German sports car has become extremely popular recently with auto enthusiasts, track racers, and street tuners.
Good, solid examples are getting harder and harder to come by, making the E30 more desirable and expensive.
Although they were BMW's entry level option, they are sporty, fun to drive, and take to performance modifications extremely well.
Not being big horsepower cars, suspension upgrades are a great way to make the E30 more enjoyable to drive.
MGC has 3 popular products we sell for the BMW E30, and customer reviews reveal they make the driving experience so much better. 
So here's our 3 most popular suspension upgrades for the E30, although they are probably not something new to see, they are tried and true, quality upgrades to definetely consider for your project.
Be sure to read until the end, there may be a couple additional ideas to consider. 
Make sure to read all of our blog posts for more content.
And if you've never heard of MGC Suspensions, read our story about who we are, and why we started.
1.  H&R Touring Cup Suspension Kits
H&R was arguably the first suspension brand to bring a lowering spring kit to the public market, and has been manufacturing top quality suspension components for the street since the 1970's
The perfect entry level suspension kit priced under 1000 bucks. Suspension legends H&R put together these shock and spring kits to make things easy.
Engineered with the proper damping and spring rates, these touring series kits are street car friendly, not harsh or bumpy.  
For the BMW E30, this kit offers lowering of 1.3 Inches (33 mm) front and rear for a clean, lowered stance that sits level. Sport dampers and progressive rate coil springs transform handling and feedback.
This kit is a great option and starting point for restoring or upgrading an E30 suspension used on the street.
H&R designs these kits to fit and perform perfectly. Thick powder coat, and anti-corrosion finishes ensure they last. 
2. Eibach Pro-Kit Lowering Springs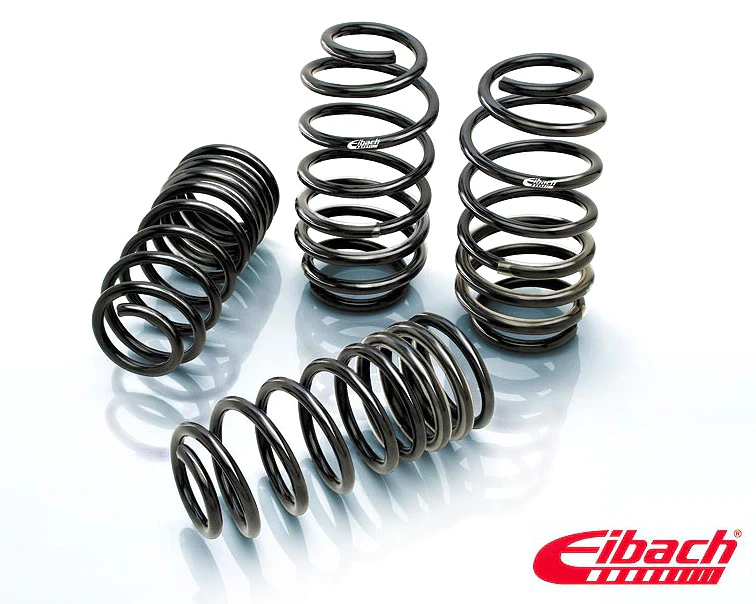 For any E30 owners who happen to already be on new shocks that don't need replacing, and have decided they want to lower their BMW for better handling and looks, a set of Eibach Pro-Kit lowering springs is the answer.
Founded in 1951, German suspension manufacturer Eibach has been engineering and producing top quality components longer than anyone. 
Their automotive chassis technology division began back in 1975, and that's when they created their legendary progressive design lowering springs for street car tuning.
Eibach has even ben called upon as an OEM suspension manufacturer for many auto makers.
Eibach Pro-Kits are designed to deliver improved handling performance with slightly stiffer spring rates that are still daily driver friendly. 
Each kit has a lowering amount that is vehicle specific to meet stringent safety and suspension geometry guidelines. 
For the BMW E30, 1.3 Inches (33 mm) front and rear lowering is achieved for much improved handling and a beautiful lowered stance.
3. AST 5100 Series Coilover Kit
AST suspension from the Netherlands is now also the owner/operator of legendary coilover brand, MOTON.
Their coilover kits are of the highest quality and they have a small catalog of choices to fit most budgets.
This 5100 series kit is our top seller for the E30 as it transforms suspension feed back and offers both ride height and rebound adjustability.
The 5100 series was designed for enthusiasts who use their cars for daily driving, spirited canyon carving, or aggressive track use. The adjustability lets you adapt to any driving situation.
Gas pressurized, inverted, monotube shocks are paired with progressive rate coil springs.
12 position, 1 way adjustable rebound damping gives unique feedback with each turn of the dials on the top or bottom of the coilovers.
Ride height adjustable within safe lowering range is easy with supplied spanner wrench.
Those are our 3 most popular suspension upgrades for the BMW E30.
But here's a couple more ideas to go along with them for even better handling and performance.
H&R sway bar kits are a great addition to lowering springs, suspension kits, andd coilovers for even better handling performance. 
From the factories, most cars leave with pretty wimpy anti-sway bars that are paired with rubber bushings that soon degrade.
H&R sway bars are stiffer, and larger in diameter and come with urethane/teflon composite bushings for a tight fit that doesn't squeak. 
Lateral body roll is greatly reduced for much flatter cornering and better tire grip. 
These sway bar kits are cold bent and feature seamless end flanges that aren't welded on. 
Bent to fit perfectly and feature a thick, high quality powder coat finish that looks great and ensures they are corrosion resistant in the harshest elements.
Most kits offer mounting options for your drop links so you can adjust roll stiffness.
The E30 kit features a 22 mm front bar and 18 mm rear bar.
5. Bilstein B12 Suspension Kits
Suspension icon Bilstein offers these affordable lowering suspension kits that make upgrading your E30 suspension quick and easy. 
Bilstein starts with their own B8 series monotube sport shocks to improve rebound and compression response.
They then actually call on Eibach to wind some progressive rate coil springs to complete a high quality kit that installs easily and offers a perfectly leveled, lower stance that looks great and rides firmer but is still daily driver friendly.
Obviously these ideas are not for a full race suspension rebuild. Yet we feel they offer great starting points to anyone who has recently acquired an E30 and wants to make the suspension better without breaking the bank.
If you have any questions hit the contact us link on our website.
If you would like some free MGC Suspensions decals hit the link and we will send you some. Free MGC decals.
AND as of late 2021, we are now MGC Suspensions and exhaust. Get top brand exhaust system components for your European car, or contact us for any application.
We hope everyone has a happy and healthy 2022!
Cheers,
The MGC suspensions family.